AKSH has started Fibre to the Home (FTTH) in Delhi and Mumbai with MTNL and in Jaipur, Ajmer, Faridabad and Gurgaon with BSNL, now people can enjoy fibre at their home having bandwidth speed they wished for. They can realize the speed of Internet up to 100 Mbps, Multiple IPTV connections, VoIP based Telephone service.
---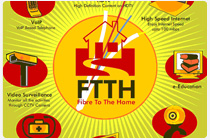 HD content delivery through network is now possible, that requires more than 6Mbps bandwidth. In future people will get Video surveillance, Video conferencing, E-education, online Gaming on Fibre to the Home network.
FTTH (Fiber-to-the-Home) is a new access technology utilizing an optical network architecture optimized for simple, economical delivery of telephony, packet data and video to the home via a single bi-directional fiber optic strand. This will enable towns to facilitate the delivery of current and future video, voice and data services, and is an all-optical alternative to the traditional copper-based feeder, distribution and drop portions of a residential access network.
Total FTTH Solution
AKSH has flexible fiber optics connectivity solutions for any kind of business or home properly.
The Homeowner
Enjoy the freedom to surf and explore all the internet has to offer without restrictions. Full-HD video streaming, incredible download speeds and reliable connections are a breeze with high speed broadband through fiber optic connections.

Copper wires along with frustrating internet speeds are going on the path to extinction. Your home shouldn't.
The Business Owner
Today's businesses could use a much needed shot in the arm with cloud computing. It's now possible to collaborate with anyone, anywhere with a sturdy internet connection. With more and more data residing "in the cloud", it is crucial for your business to have the best possible connection to the internet.

Make crucial backups, send files quickly and improve overall business communication drastically with your premises hooked up with high speed fiber optics connections.
The Property Developer
Fiber-optics compatibility is quickly becoming a key differentiator in buildings and development areas.
Generate higher ROIs when your premises are wired with fiber optics connections. Businesses and homes today consume more bandwidth than ever before, and your building infrastructures shouldn't stifle them.